What Stimulates Sports Consumer? Desiging Sustainable Marketing Strategies
Keywords:
Sports Manufacturing, Sustainable Manufacturing, Consumer Behaviour, Sports Consumer, Marketing Strategies
Abstract
The global sports industry has rapidly expanded its scope, and its domain has extended across the world. World sports events including the Olympics, FIFA,  Wimbledon Tennis, Tour de France Cycling and many other events have a far reach, a large audience as well as a wide range of participation. With its massive impact, the industry has become inexplorable today and the higher interest of consumers in sports persuades a need to understand the unique behaviour of sports consumers. The current research was conducted to identify the marketing factors that influence sports consumer behaviour. This study was focused on the population of young adults in Dera Ismail Khan, a division of Khyber Pakhtunkhwa (KP), Pakistan. A questionnaire encircling marketing factors was distributed among 220 respondents. The study was followed by a quantitative method and the participants' responses were analyzed through statistical inferences. The analyzed data indicated that six (06) marketing factors, such as product quality, price, product accessibility & reach, brand image, and sustainable manufacturing have a significant influence on sports consumer behaviour. These findings suggest that sports goods manufacturing companies in Pakistan should give due attention to consumer demands and devise relevant marketing strategies to grow their businesses and gain higher market shares.
References
Allen, N. J., & Meyer, J. P. (1996). Affective, continuance, and normative commitment to the organization: An examination of construct validity. Journal of Vocational Behavior, 49(3), pp.252–276.
Baker, B., McDonald, H., & Funk, D.C. (2016). The uniqueness of sport: Testing against marketing's empirical laws. Sport Management Review, 19, pp.378–390.
Bansal, H. S., Irving, P. G., & Talyor, S. (2004). A three-component model of customer commitment to service providers. Journal of the Academy of Marketing Science, 32(3), pp.234–250.
Blackwell, R. J., Miniard, P. W., & Engel, J. F. (2006). Consumer behavior (10th International ed.). Cincinnati, OH: South Western-Thomson Learning.
Blaszka, M. (2011). An examination of sport consumers' twitter usage, Kinesiology, Theses, Paper 1.
Evans, A., James, T., & Tomes, A. (1996, April). Marketing in UK sport associations. The Services Industries Journal, 16(2), pp. 207–222.
Gladden, J.M., & Funk, D.C. (2001). Understanding brand loyalty in professional sport: Examining the link between brand associations and brand loyalty. International Journal of Sports Marketing & Sponsorship, 3, 67–91
Gruen, T. W., Summers, J. O., & Acito, F. (2000). Relationship marketing activities, commitment, and membership behaviors in professional associations. Journal of Marketing, 64(1), pp.34–49.
Hawkins, D. I., Best, R. J., & Coney, K. A. (2004). Consumer behavior: building marketing strategy. McGraw-Hill/Irwin series in marketing. Boston: McGraw-Hill Irwin, pp.7.
Heere, B., & Dickson, G. (2008). Measuring attitudinal loyalty: Separating the terms of affective commitment and attitudinal loyalty. Journal of Sport Management, 22(2), pp.227–239.
James, J.D., Kolbe, R.H., & Trail, G.T. (2002). Psychological connection to a new sport team: Building or maintaining the consumer base? Sport Marketing Quarterly, 11, pp.215–226.
Janssen, M., Scheerder, J., Thibaut, E., Brombacher, A., & Vos, S. (2017). Who uses running apps and sports watches? Determinants and consumer profiles of event runners' usage of running-related smartphone applications and sports watches. PloS one, 12(7), e0181167.
Kahn R.F., (1935). Some Notes on Ideal Output, EcoNoMIc JOURNAL. Retrieved from: Galbraith J.K. (1938). Rational and Irrational Consumer Preference, The Economic Journal, 48 (190), pp. 336-342.
Kim, T., & Chiu, W. (2019). Consumer acceptance of sports wearable technology: The role of technology readiness. International Journal of Sports Marketing and Sponsorship.
Safko, L. (2010). The Social Media Bible. Hoboken, New Jersey: John Wiley & Sons Inc.
Schiffman, L. G., & Kanuk, L. L. (2004). Consumer behavior (8th international ed.). Englewood Cliffs, NJ: Prentice-Hall.
Schlossberg, H. (1996). Sports marketing. New York, NY: Blackwell.
Tapp, A. (2004). The loyalty of football fans—We'll support you evermore? Journal of
Database Marketing & Customer Strategy Management, 11, pp.203–215.
Wallace, L., Wilson, J. and Miloch, K. (2011). Sporting Facebook: A content analysis of NCAA organizational sports pages and Big 12 Conference Athletic Department pages. International Journal of Sport Communication, 4, pp.422-444.
Wann, D. L. (1995). Preliminary validation of the sports fan motivation scale. Journal of Sport & Social Issues, 20(4), pp.377–396.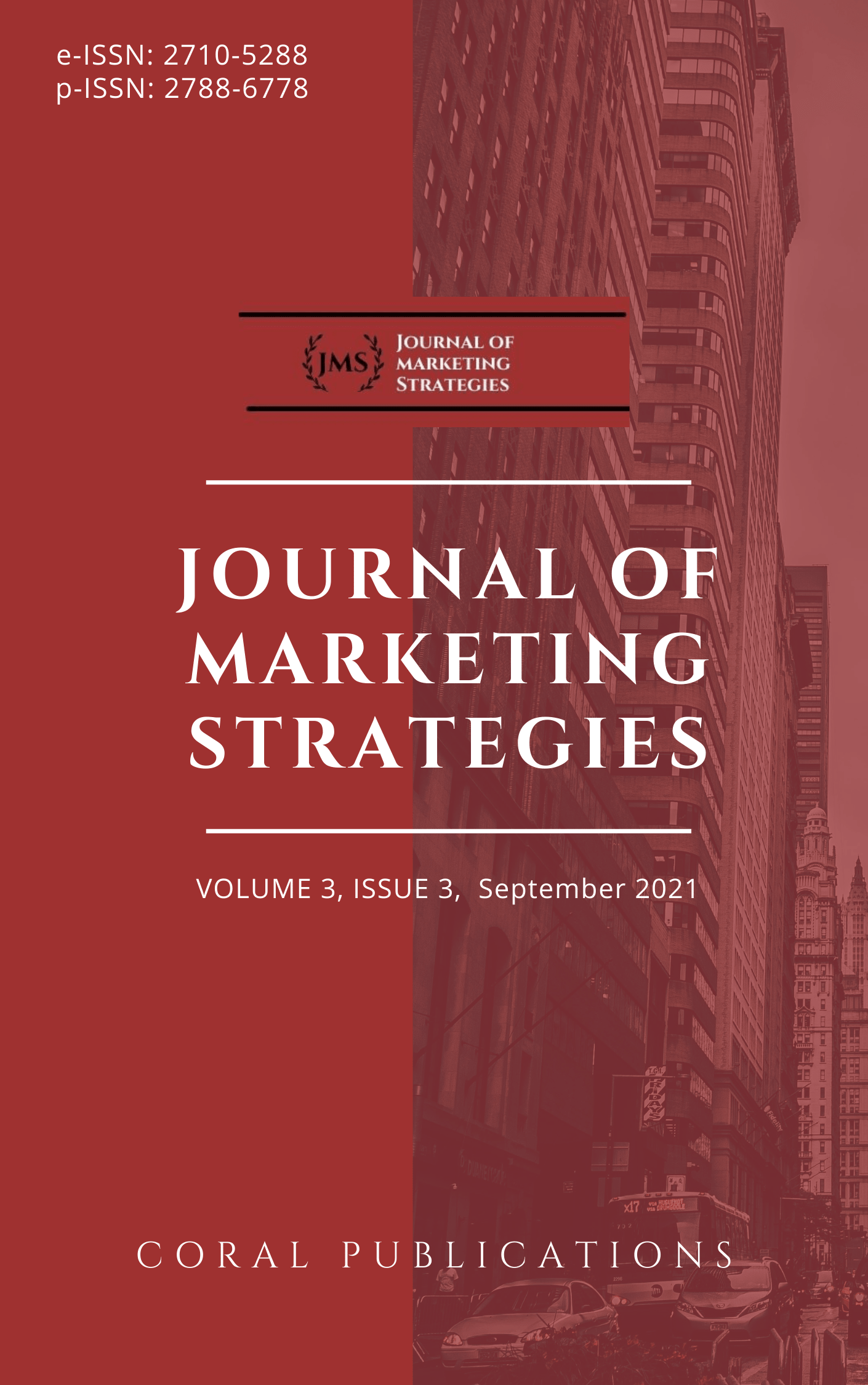 Downloads
How to Cite
Arif, T. ., Khan, W. ., Bhutto, G. M., & Abid, S. . (2021). What Stimulates Sports Consumer? Desiging Sustainable Marketing Strategies. Journal of Marketing Strategies, 3(3), 251 - 265. https://doi.org/10.52633/jms.v3i3.73
License
Copyright (c) 2021 Journal of Marketing Strategies
This work is licensed under a Creative Commons Attribution 4.0 International License.
Ethical standards for publication are maintained by JMS to ensure high-quality scientific publications and public trust
in scientific findings, and that people receive credit for their work and ideas.
The Journal of Marketing Strategies (JMS) follows the Committee on Publication Ethics (COPE) and adheres to its core practices.