About the Journal
The Journal of Entrepreneurship, Management, and Innovation (JEMI) is an interdisciplinary, double-blind peer-reviewed research journal published by Coral Publishers. The journal emphasizes publishing original research articles on management, entrepreneurship, and innovation. JEMI is an international journal that aims to herald novel research encompassing theoretical and empirical investigative protocols. JEMI is an open-access journal and is published bi-annually in January and July every year.
ISSN (Online): 2788-4163
ISSN (Print): 2788-676X
DOI: 10.52633/Coral-P/JEMI
Journal Scope:
JEMI contributes to address the contemporary research fields of business management, enterprise management, and innovation advancements. In a nutshell, the broad contribution of JEMI encircles business theory, practices, and policy research related to the areas of business, economics, sociology, and other subjects leveraging its domain to new technological advancements and disruptions which impact the businesses as well as economies at large.
Electronic Access:
The Journal of Entrepreneurship, Management, and Innovation (JEMI) is available electronically through Open Journal Systems at http://coralpublications.org/index.php/jemi
This journal follows the Ethical Codes of the Committee on Publication Ethics (COPE).
Current Issue
Vol. 5 No. 4 (2023): Journal of Entrepreneurship, Management, and Innovation (JEMI) September 2023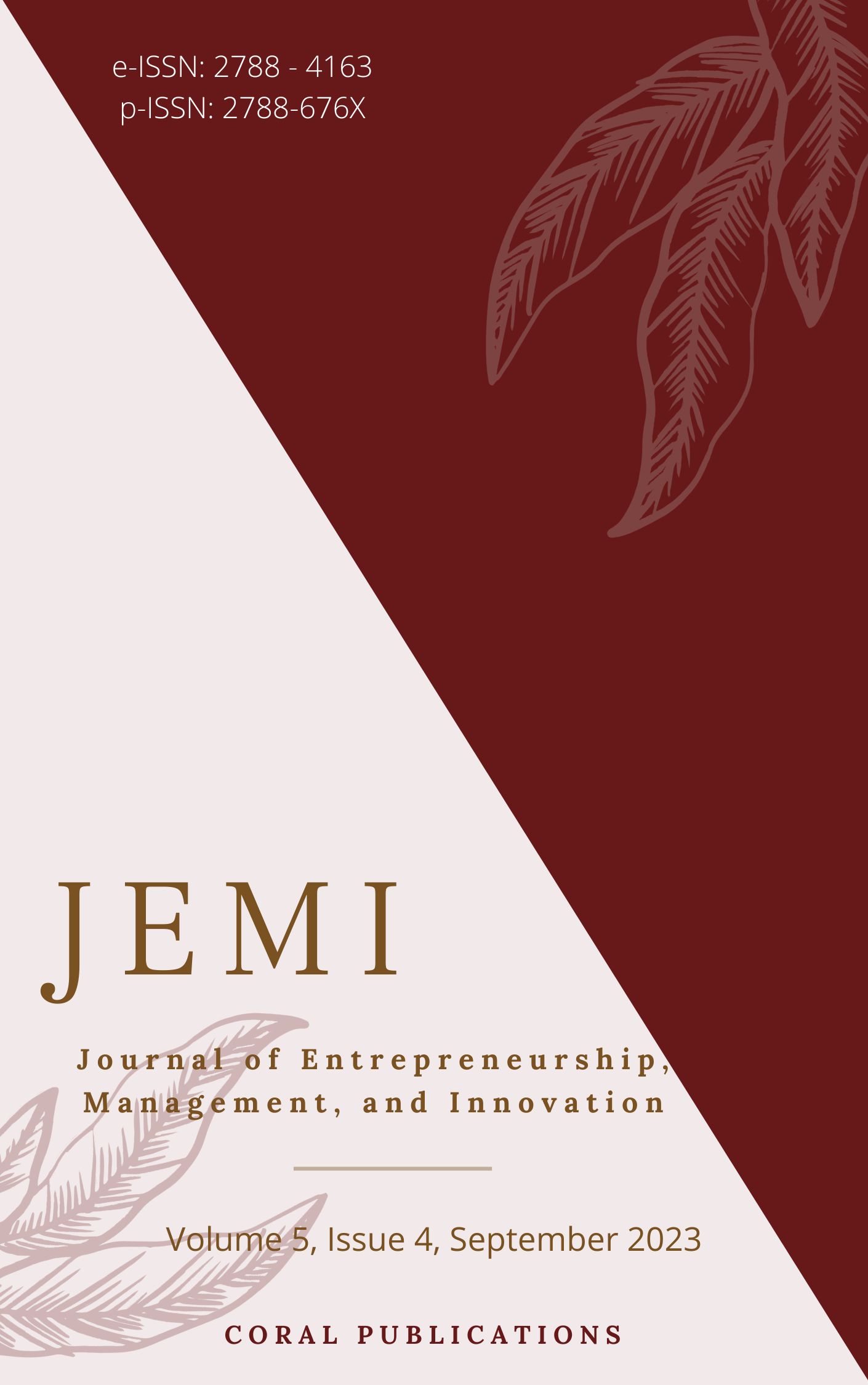 JEMI is an interdisciplinary research journal that focuses on business management research and exclusively conjoins diversified subjects of management, entrepreneurship, and innovation. In the realm of Entrepreneurship, the journal encompasses diverse areas including Venture Capital & Finance, Enterprise Management, Leadership, Motivation, Training, and the policies and processes related to the creation, development, and growth of startups and Micro, Small & Medium Enterprises. The domain of management subject, the journal's scope includes Strategic and knowledge Management, Corporate Governance, Operations & Information Management, Supply Chain & Logistics, and Organizational Ethics, Behavior & Development. The innovation area of JEMI comprises technology, creativity, open innovation, digitization, Industrial Internet of things (IIoT), value creation, and research on evolving socio-economic environments.
View All Issues